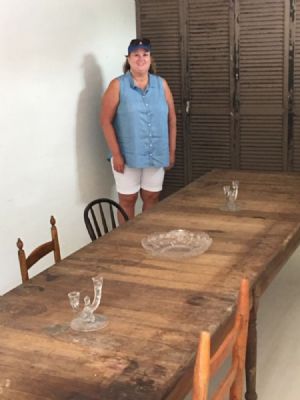 Melody is a very good friend of my sisters, Kathy and Kay. Her wonderful gift/sale of this table is just on of many gifts from our supportive community for which we are sooooo thankful. Thanks to Chuck, Butch, and Mike (local Baxter men) for moving this 11 foot table from Melody's basement to the store. No easy task - doors had to be removed and replaced, and it was too long for a pick-up truck - trailer required.
The provenance of this table is connected to our own Baxter seminary and Baxter historian, June Swallows.
"When Rev. Thomas Richard Dodson, moved to this area in 1856, he bought several hundred acres of land in what is now known as the Dodson Chapel Community of Overton County. There he built a store that included a post office, and he named the community Miranda after his daughter (Sara Catherine Hanna Miranda Emeline Dodson
Gentry Swallows) 1860-1894. To this day, the road from Algood to the area is known as Mirandy Road.
After William Stanton Swallows married Miranda, he served as the store manager and the postmaster of Miranda, Tennessee for several years until he sold the store to John Edward Judd in 1894 after Miranda's death. The post office closed in 1915 when it was moved to Algood. The Judd family owned the store until it closed in the mid-1950's.
Following the death of his wife, William Swallows moved his family to baxter, Tennessee where he served as trustee and chairman of the board of Baxter Seminary for 25 years. On August 5, 1896, William married Ida Sophia Freeman. William and Ida had nine children. The youngest, James Carl Swallows, was born in 1918. Carl married Marie Austin; they lived in Baxter."
This was the same Mrs Marie Swallows who was my beloved guidance counselor and English teacher in Upperman High School. Their daughter, Jan, was my friend and fellow teacher! Now we are wondering of Tish's mom who was a Judd is connected with the last store/table owners - that would be ironic! Melody and June Swallows found that they are cousins!
History in quotes was provided by Paula Swallows Stover via Melody.